Azalea Trail – Bayou Bend Gardens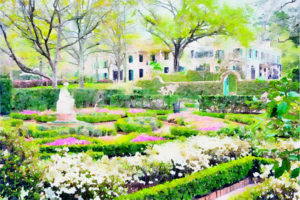 Bayou Bend Collection and Gardens, a branch of The Museum of Fine Arts Houston, is an oasis of nature and beauty located just five minutes from downtown Houston and was one of the first homes built in the new subdivision of River Oaks.
Ima Hogg and her brothers, Will and Mike Hogg, chose this 14-acre site for their home in 1926. The stately John F. Staub mansion is filled with Miss Hogg's extensive collection of American antiques and art.
Bayou Bend is surrounded by natural woodlands and historical formal gardens, which have been supervised and maintained by River Oaks Garden Club since 1961. The gardens feature an incredible array of plants including, multiple varieties of azaleas and camellias as well as dogwoods and many champion trees. 
A highlight of the Trail is the large tulip bed at the southern entrance. This year, 9000 bulbs (Big Love, Olliocules and Sauternes) in varying shades of pink were planted by members of River Oaks Garden Club. The Lora Jean Kilroy Visitor and Education Center, which opened in 2010, is a LEED silver certified building. It features an urban garden with native plants.