Conservation Committee's Purpose
The purpose of River Oaks Garden Club is to restore, improve, and protect the quality of the environment through educational programs and action in the fields of conservation and civic improvement.
You must teach your children that the ground beneath their feet is the ashes of our grandfathers. So that they will respect the land, tell your children that the earth is rich with the lives of our kin. Teach your children that the earth is our mother. Whatever befalls the earth befalls the sons of the earth. Man did not weave the web of life. He is merely a strand in it. Whatever he does to the web, he does to himself.  Chief Seattle, 1854
National Affairs & Legislation
River Oaks Garden Club is also involved, in tandem with Garden Club of America, to bring to the attention of its members important legislative proposals in Texas and in Washington that affect the fields of conservation and civic improvement.
"Although we may not be able to save every single species, we can each do our part to protect them. Some of the answers lie as close as our own backyards." – Lady Bird Johnson
 Garden Club of America Position Papers  2021: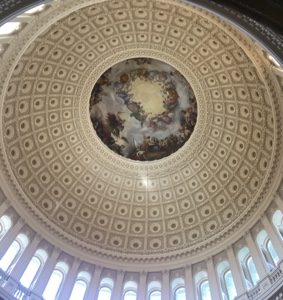 History of Conservation in the Garden Club of America
Conservation has always been a key part of what the Garden Club of America does. GCA was founded in 1913, and in 1914 a "Committee on Beautifying Settlement and Highways" was created. This committee evolved to be today's National Legislative Affairs and Conservation Committee. In 1916, A Wild Flower Preservation Committee and The National Parks Committee were both formed. In the 1920's educational exhibits were added to the International Flower Show in New York City and a conservation department was added to the Bulletin. It was also at this time that the GCA determined that individual member clubs should determine which specific activities to pursue.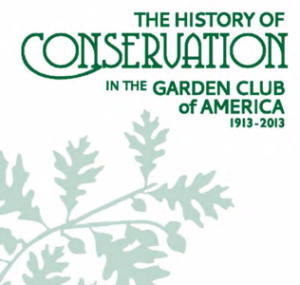 In the 1930's it was determined that the conservation program should be a constructive one, and not simply a list of "Don'ts". Some of the activities in which GCA clubs participated were growing wild flowers and trees, planting and encouraging the cultivation of Christmas greens rather than wild collection, cooperating with other conservation organizations, planting trees for the George Washington bi-centennial celebration, reforesting burnt- over areas and working for conservation legislation.
In 1930, the GCA raised $91,634.13 from its own members to assist in purchasing a grove of Redwoods in Humboldt County, California, now known as the Garden Club of America Grove.
In 1936, GCA dropped the word Roadside from the Conservation and Roadside Committee and it officially became the Conservation Committee. The above summary is taken from
The History of Conservation in the Garden Club of America (1913 – 2013)
Authors
Claire P. Caudill, Garden Club of Houston, Betty Pinkerton, Tacoma Garden Club, Diane B. Stoner, Litchfield Garden Club
River Oaks Garden Club Conservation Reports
September 2017 – What we're thinking about: Butterflies and the Bayou!   
October 2016 – Tropical versus Native Milkweed
May – June 2016 – How's your compost doing?
March 2016 – Conservation Update
November – December 2016 – Upcoming Events
January 2016 – Conservation Initiatives
September 2006 – GCA Conservation Update
March 2006 – Conservation – Garden Club of America 2006 Washington Legislative Meeting
2006 – Keep Pesticides Off Lawns
2006 – Mercury Dangers
2005 – The Wetlands Story Behind The New Orleans [Katrinia] Disaster

Garden Club of America Conservation Pledge

To preserve America's beauty and natural heritage for future generations, we pledge to:
Promote conservation stewardship through environmental education and advocate scientifically-based environmental legislation;

• Work to protect endangered species, especially flora, to promote biodiversity and to conserve natural resources;
• Encourage the responsible use of our public lands for the benefit of all citizens; and
• Work to reduce industrial, municipal, and household waste and advocate the prevention of pollution of soil, air and water.