Azalea Trail – 15 Courtlandt Place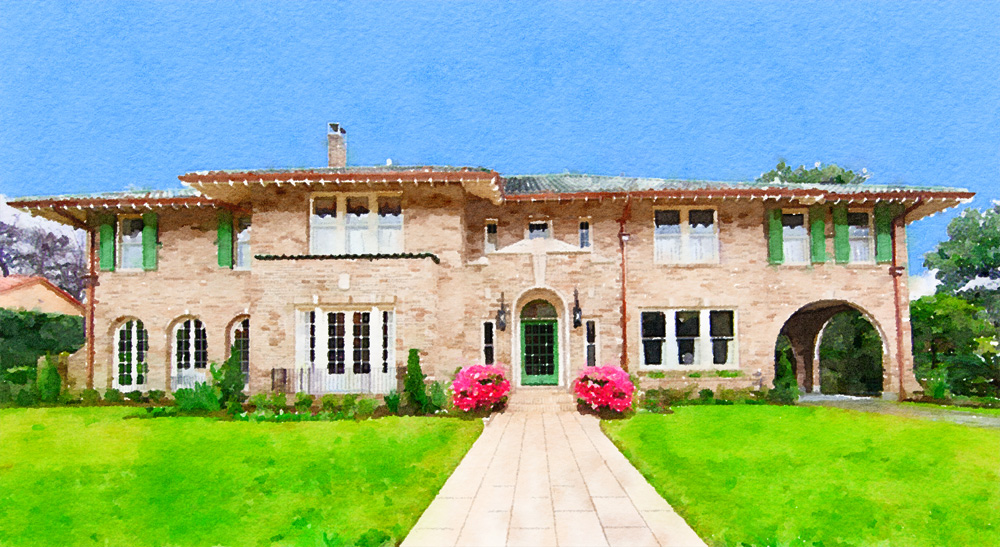 15 Courtlandt Place was completed in 1925 by 26-year-old architect Carlos B. Schoeppl for two sisters, Caroline Bryan-Chapman "Caro" and Johnelle Bryan. The sisters were generous philanthropists and noted patrons of the arts who frequently held concerts in their home.
The beautiful Mediterranean style home Schoeppl designed suited the sisters perfectly. One room seems to flow to another allowing for optimal circulation and accommodating the many guests who came for musical events. Schoeppl topped off the Italian Revival design with extruding rafter tails and Ludovici tiles.
The current owners worked with Jon Green at Indigo Interior Design and Rogelio O. Carrasco at ROC•qi•tecturi Residential Design Studio to restore and update the home. This latest renovation, completed in 2019, returns the home closer to its original floor plan. Contemporary touches energize the space.
The distinctive driveway was designed and installed by renowned granite artist Jesus Morales while he was living in the guest quarters. The pool and surrounding south lawn landscape were designed by Curtis and Windham Architects and Jane Curtis.